Winter Again
December 5, 2018
So, clearly all the good intentions in the world could not make me a reliable blogger. It was mentioned to me that perhaps video blogging would be more to my liking, that it would be easier, it would be faster, it would be more immediate... I'll give it some thought. Maybe even give it a try. 
Winter Weather
January 31, 2015
It only takes 2 or 3 inches of snow to make a home inspection more challenging.

A vacant home is rarely shoveled before the inspection. Sidewalk and driveway spalling and surface cracks remain covered, obscured by the snow. A trudge through the snow is usually followed by a change of footwear to keep the interior of the home clean. Grading issues can also be covered by the snow but in this area we rarely get snow deep enough to impede the inspection of the exterior foundation. 

The main concern of most clients is the condition of a snow-covered roof. Obviously, the roof covering and flashings can't be evaluated if they can't be visually inspected. However, in most homes the attic will give you a view of the roof sheathing. Water stains on the sheathing can be an indication of roof leaks or failing flashing around vents and chimneys, and the condition of the attic insulation can also reveal clues about the state of the roof. If there is evidence of roofing issues in the attic additional evaluation by a qualified roofing contractor is recommended because repair is likely to be needed but this is usually an extra cost to the client. So, if their timing permits, I'll come back when the snow has melted.
Snow Damage
February 28, 2014
The horizontal "fascia board" which caps the end of rafters outside a building is used to support the rain gutter. On older homes this is frequently made of wood that is vulnerable to moisture and insect damage.  In the course of a home inspection it is evaluated to determine if it is sound or in need of repair.  Keeping the paint of the fascia in good condition will help to protect it from the damaging effects or water and weather.  Failure of the fascia can result in considerable damage particularly when stressed by snow.
Dryer Venting
June 30, 2013

Duct tape should not be used to bind the connecting pieces of a dryer venting together.
The adhesive on duct tape was not made to withstand the heat of dryer exhaust and it will not hold a tight seal. In a recent case the dryer then vented air and lint into the attic of the home. The warm moist air of the dryer can damage the roof sheathing and insulation, create conditions conducive to mold/mildew growth and be a potential fire hazard.
Inspection Exterior
April 7, 2013
As part of a home inspection driveways and sidewalks are examined for damage and deterioration.  We typically see common damage such as small cracks and minor spalling that occur as the surfaces age.  Larger cracks and significant spalling can be caused by the winter cycle of freezing and melting,  water expanding as it turns to ice forces the crack to expand with it. Now that spring is here, it is a good time to consider whether your driveway or sidewalks need repair to keep little problems from growing next winter.
What Lies Beneath a Home...
February 27, 2013
Not every home I inspect has a beautifully finished basement like those frequently found in Saucon Valley, PA; in fact some of the homes I inspect don't have basements at all. Some are built on what had previously been a root cellar, some are built on concrete slabs and some are constructed on a raised foundation with only a crawlspace beneath.
Crawlspaces are a particular challenge, as I can never be quite certain what I will discover. However, I am small enough to easily fit and maneuver around, over and under the obstacles in the space so I brave the cold, dark and frequently wet and hope that if there is something moving down there, I see it before it sees me.
When that home inspection is complete, I know that I have truly given my all.
A Home Inspection with Something New - to Me
January 30, 2013
Not everything discovered in an old house is as charming as an eighteenth century fireplace but a house doesn't have to be over two hundred years old to have something unusual hidden away in the attic . Inspecting the small area behind a knee wall I saw what looked like Spanish moss or massive cobwebs hanging from the rafters – until I turned on my flashlight. Hanging from roof to floor was an attic insulation I had read about but never seen before a sixty+ year old product called Kimsul.
Kimsul was at one time the latest thing in home insulation; it was even used by the US military to insulate Quonset huts and temporary housing during World War II. Mr. Blandings used it when he built his dream house (1948).  Made of sugarcane based paper treated with asphalt there is no evidence that this material contains asbestos.
Historic Home Inspection
January 12, 2013
I love inspecting old houses.  Happily, I live and work in an area where old, historic buildings are not that rare.  Homes built in the early twentieth century are quite common and homes built in the mid-1800's are seen on the market frequently as both urban housing and country farms.  Even homes that predate the Revolutionary War get new owners occasionally.  It has been my pleasure to inspect these types of homes.   
While there are commonalities found in period homes, the most interesting part is that every old home inspection is guaranteed to reveal something unique. My personal favorite was a home with elements that spanned two hundred and fifty years. Although much had been changed, updated or replaced over the centuries, the beautiful old fireplace remained.
Sadly, the chimney was gone but it remained a lovely decorative piece and a reminder of the home's history.
Home Inspection with Termite Examination
December 28, 2012

As part of a home inspection, more home buyers are requesting a Wood Destroying Insect (termite) examination as part of their comprehensive home inspection. This frequently comes as a requirement of the Lender. When inspecting a home for termites and other wood destroying insects one of the first exterior sites to check is the wood pile as cut wood is frequently stored near or next to the house for convenient access. Unfortunately, this wood may also attract termites and be the first step towards the infestation moving into the home.
Wood destroying insects do an estimated 30 billion dollars in damage to crops and buildings, and homeowners who discover damage pay an average of $3000.00 for repairs. The simple step of relocating a wood pile may help prevent damage and save the homeowner a costly repair bill.  
What You Need From A Home Inspector
December 12, 2012 2:08 pm
I started off my week with an early phone call from Jack Romig and a scheduled interview about home inspections for the Lehigh Valley's Newspaper The Morning Call.  His questions focused primarily on what a homebuyer or homeowner should look for in a home inspector. Without doubt, education, professional certification and experience have always been important when choosing an inspector.   That will never change.  But today more mortgage companies are demanding home inspections, and not just home inspections, termite inspections and radon tests are very common requirements.  Septic inspections and water analysis can also be required, where applicable. It has now become especially important that the homebuyer choose an inspector who can offer the range of specialized inspections to meet the requirements of the lender.   
As for Allegiant Home Inspections, from roof to foundation, termites to radon, septic system to swimming pool, we've got that covered and more.
Seasonal Maintenance Tips
October 2, 2012 3:47 pm
Summer is over but winter isn't here yet.  The leaves are turning and have begun to fall.  In the air there is chill that is best cured by a warm sweater.  That can mean only one thing – time for autumn maintenance. It is important to prepare your home for the winter months before it grows too cold or too late. Early seasonal maintenance now can save you from costly repairs later.  
Gutters and Downspouts
Clean gutters and downspouts should be cleaned regularly during the fall to prevent debris accumulation. Check that all support brackets are secure. Check to ensure water drains properly and doesn't pool near the house. Neglected gutters and downspouts can lead to wood rot, pest infestations, water in the basement, foundation damage and many other expensive complications.
Windows and Doors
Change summer screens to cool weather storm windows and doors and inspect and repair any loose or damaged window or door frames. Install weather stripping or caulking around windows and doors to prevent drafts and lower heating bills. 
Heating Systems
Replace the filter in your furnace. Consider having a heating professional check your heating system to ensure optimal performance and discover minor problems before they turn into costly major repairs. This should include checking the accuracy of your thermostat's heat sensor. Clean your ducts to better your heating system's efficiency. This will also help to reduce household dust and to provide relief to those with allergies and respiratory problems.
Plumbing
To prevent pipes freezing and bursting, ensure that the pipes, as well as the wall cavities where they reside, are well insulated. Be sure that you know how to locate and turn off the water shut-off valve in case pipes do freeze.
Chimney and Fireplace
Call a professional in to inspect and clean your chimney. Fireplaces that are regularly used during the season should have an annual cleaning to prevent dangerous chimney fires. Have your flue seal tested. If you don't have one already, consider installing a carbon monoxide detector near the fireplace and furnace.
Attic ventilation
To help prevent ice dams, make sure attic insulation doesn't cover ventilation vents in the eaves. Clear ridge vents and vents at eaves of plants and debris. Check bird and rodent screens for attic vents to prevent any unwanted guests.
The Most Important Tip of All 
Please member, as you embark on these recommendations, to always put safety first.
Have a happy autumn!
Out Like a Lamb
March 28, 2012 12:48 pm
Spring is here!

It's time to start prepping the yard for the spring plantings. If you are lucky, you may already see signs of spring in blooming hyacinths, forsythia, or daffodils. These are sure signs that spring is right around the corner and that summer can't be far behind.

So, now is a good time to have your air conditioning system serviced by a qualified HVAC professional. Getting this done now may head off any problems during that first summer heat wave.

And, if you haven't done it lately, check your smoke detectors and your carbon monoxide detectors.

Spring Forward!
Holiday Safety
December 13, 2011, 12:48 pm
In less than two weeks Santa Claus will be coming down chimneys all over the world.  If you want to show him how much you care you can do more than leave him some cookies and milk. Show him you are nice and not naughty by practicing a little extra fireplace safety.
Hang your stockings from the mantel but only when the fireplace isn't lit.
Keep your Christmas tree a safe distance from the fireplace if you intend to light a fire.  Your decorated tree isn't the wood you want to burn.
Keep presents away from the fireplace when it is lit. Be especially careful of wrapping paper and don't burn it in the fireplace – many contain harmful chemicals that are released when the paper is burned.
Keep greenery and ribbons on the mantel; avoid draping over the mantel's edge.
Candles on the mantel should be protected by glass to avoid exposing mantel decorations to opens flames.
Have your chimney cleaned and inspected at least once a year. Help keep Santa's red suit clean.
Above all – Have a happy holiday!

Post-Irene Tip
September 1, 2011 | 12:00 pm
The gutter/downspout/extension system is very important to the safety and comfort of a home. By diverting water away from the home, it helps to keep the basement dry and limits erosion around the foundation.  In the aftermath of a storm like Irene, it is prudent to make sure the system is undamaged and will continue to function to the benefit of your home.  You don't want to wait until the next heavy rain to discover any problems by finding water in your basement.
If you found leaves and twigs on the ground, they also fell on your roof and may now be in your gutters.  While you can hire a professional to clean out your gutters, with caution and an eye on safety you may do it yourself.  
If you prefer to avoid ladders, you can still inspect much of the system for obvious failures safely from the ground.  A visual inspection of the gutters can reveal debris that may clog the system, hanging or loose gutters, or missing gutter screens.  You can also check to see that your downspouts are still securely attached to the house and that downspout extensions are still in place to divert water away from the foundation.  While walking around the yard you may find pieces of the system lying in the grass.  
It is recommended that a gutter system be cleaned out twice a year, in the spring and in the fall.  However, a little extra attention before and after a storm, can help prevent serious trouble from catching you by surprise.  
Happy Father's Day
June 14, 2011 | 8:54 am
Happy Father's Day
Father's Day is nearly here and I'd like to take a moment to say thank you to the two most important fathers in my life – my dad Harry and my husband Peter.
My father raised me to believe that I can do anything I set my mind to do but also if I'm going to do it – do it right. When I told him that I wanted to be a home inspector he didn't bat an eye, he just asked what he could do to help.  While I was growing up he said don't be afraid of the hard work it takes to achieve your goal because it will be worth it in the end.  He was right.  Through all the valuable lessons he  taught me he also gave me a happy childhood and I think that is what helps make me a happy adult.  
My husband taught me the importance of doing what you love, no matter what other people think. Even when people thought the idea of a woman home inspector was a bit odd, he was right there cheering me on.  He reminds me when it is time to slow down, take a break, have a cookie; he stops me from burning the candle at both ends.  He is also a great father to our three-year-old son and the two of them play very nicely together while I am at work.  He is giving our son the happy childhood he deserves.
I come from a happy home, I live in a happy home and I owe that to the fathers in my life.
I am one lucky home inspector.
Tree vs. Fence
April 14, 2011 | 6:08 pm
In the epic battle between tree and fence the tree will almost always emerge victorious.  Even a wrought iron fence stands little chance against the resolute and relentless onslaught of Mother Nature. 
The tree grows and the fence falls.
All the tree needs is time.
Hidden Treats
March 21, 2011 | 10:32 am
I love inspecting old homes.  A building one hundred years old or more tickles me pink. You never know what you're are going to find.  Behind those heavy antique doors could be something of amazing beauty or something just amazing.

Yesterday the attic held the surprising remnants of the home's original steam heating system.  This circa 1900 American Radiator Company beauty may not be keeping anyone warm through anymore cold nights, but it makes an interesting wall hanging.
One Last Look
Jan. 10th, 2011 | 02:18 pm
As the holiday season wraps up and gets away for nearly a year, here is one last look at the Peace Candle in Easton, Pennsylvania's Center Square.

The above photograph was taken from the balcony of a suite in the Grans Eastonian Hotel, Easton PA
The Last Holdout
Nov. 29th, 2010 | 02:43 pm
Despite the snow on Thanksgiving morning, I spotted this lonely fellow in the garden.  Flowers in November aren't a common sight in Pennsylvania.
Have a Happy and Safe Halloween
Oct. 12th, 2010 | 04:11 pm
Going trick-or-treating?
| | |
| --- | --- |
| | Swords, knives, and similar costume accessories should be short, soft, and flexible. |
| | Avoid trick-or-treating alone. Walk in groups or with a trusted adult. |
| | Fasten reflective tape to costumes and bags to help drivers see you. |
| | Examine all treats for choking hazards and tampering before eating them. Limit the amount of treats you eat. |
|   |   |
| | Hold a flashlight while trick-or-treating to help you see and others see you. |
| | Always test make-up in a small area first. Remove it before bedtime to prevent skin and eye irritation. |
| | Look both ways before crossing the street. Use established crosswalks wherever possible. |
| | Lower your risk for serious eye injury by not wearing decorative contact lenses. |
| | Only walk on sidewalks or on the far edge of the road facing traffic to stay safe. |
| | Wear well-fitting masks, costumes, and shoes to avoid blocked vision, trips, and falls. |
| | Eat only factory-wrapped treats. Avoid eating homemade treats unless you know the cook well. |
| | Enter homes only if you're with a trusted adult. Otherwise, stay outside. |
| | Never walk near lit candles or luminaries. Be sure to wear flame-resistant costumes. |

For more information on a safe Halloween visit the
US Consumer Product Safety Commission
Summer Is Over
Sep. 24th, 2010 | 09:07 am
I can't say that I am happy that summer is over but out on a job today I noticed that autumn has the potential to get very pretty here in Pennsylvania.  The leaves have started to turn so we might as well enjoy nature's show.
10 Questions to Ask Your Home Inspector
Aug. 16th, 2010 | 03:06 pm
Purchasing your home is one of the most significant investments you will make. To safeguard your investment the US Department of Housing and Urban Development recommends you have a home inspection as part of your real estate transaction. Before you hire a home inspector they suggest you ask the inspector these 10 questions.   

1. What does your inspection cover?
The inspector should ensure that their inspection and inspection report will meet all applicable requirements in your state if applicable and will comply with a well-recognized standard of practice and code of ethics. You should be able to request and see a copy of these items ahead of time and ask any questions you may have. If there are any areas you want to make sure are inspected, be sure to identify them upfront.
2. How long have you been practicing in the home inspection profession and how many inspections have you completed?
The inspector should be able to provide his or her history in the profession and perhaps even a few names as referrals. Newer inspectors can be very qualified, and many work with a partner or have access to more experienced inspectors to assist them in the inspection.
3. Are you specifically experienced in residential inspection?
Related experience in construction or engineering is helpful, but is no substitute for training and experience in the unique discipline of home inspection. If the inspection is for a commercial property, then this should be asked about as well.
4. Do you offer to do repairs or improvements based on the inspection?
Some inspector associations and state regulations allow the inspector to perform repair work on problems uncovered in the inspection. Other associations and regulations strictly forbid this as a conflict of interest.
5. How long will the inspection take?
The average on-site inspection time for a single inspector is two to three hours for a typical single-family house; anything significantly less may not be enough time to perform a thorough inspection. Additional inspectors may be brought in for very large properties and buildings.
6. How much will it cost?
Costs vary dramatically, depending on the region, size and age of the house, scope of services and other factors. A typical range might be $300-$500, but consider the value of the home inspection in terms of the investment being made. Cost does not necessarily reflect quality. HUD Does not regulate home inspection fees.
7. What type of inspection report do you provide and how long will it take to receive the report?
Ask to see samples and determine whether or not you can understand the inspector's reporting style and if the time parameters fulfill your needs. Most inspectors provide their full report within 24 hours of the inspection.
8. Will I be able to attend the inspection?
This is a valuable educational opportunity, and an inspector's refusal to allow this should raise a red flag. Never pass up this opportunity to see your prospective home through the eyes of an expert.
9. Do you maintain membership in a professional home inspector association?
There are many state and national associations for home inspectors. Request to see their membership ID, and perform whatever due diligence you deem appropriate.
10. Do you participate in continuing education programs to keep your expertise up to date?
One can never know it all, and the inspector's commitment to continuing education is a good measure of his or her professionalism and service to the consumer. This is especially important in cases where the home is much older or includes unique elements requiring additional or updated training.

If the home inspector can answer these questions to your satisfaction you have found the right inspector for your new home.

For additional information visit US Department of Housing and Urban Development
Fire Safety
Jul. 19th, 2010 | 10:39 pm
Smoke Detectors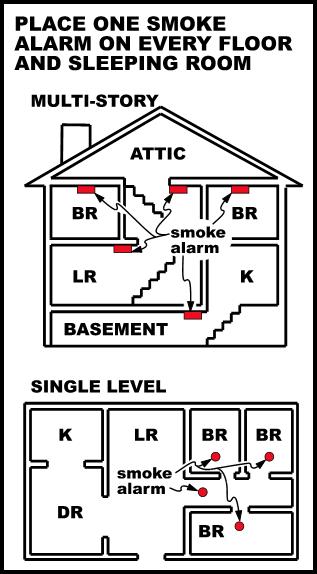 A house can't fail an inspection because of a lack of smoke detectors, but a home inspector will always check for them, check their placement, and test to determine if they are functioning properly.  I also include the recommendations of the United States Fire Administration with my inspection reports so my clients make their home a safe and secure haven for their family. 

The USFA recommends installation of smoke alarms on each floor of the home (including the basement), as well as outside each sleeping area.  Many newer smoke alarms can also detect carbon monoxide.  This silent and odorless killer is one of the primary causes of accidental death because family members can be fatally poisoned while sleeping.
Smoke alarms come in two types.  Photoelectric alarms can sense smoky and smoldering fires.  Ionization alarms are quicker at detecting flames and fast-moving fire.  The USFA recommends dual-sensor smoke alarms that combine both these features because it's impossible to predict the type of fire that may erupt in a home.  There are also smoke alarms that vibrate and/or flash strobe lights to alert home dwellers that are vision-impaired or hard of hearing.
The leading U.S. manufacturer of residential smoke alarms, as well as home fire extinguishers, is Kidde.  Their dual-sensor smoke alarms were the subject of a voluntary recall by the U.S. Consumer Product Safety Commission in the summer of 2009 because a malfunction caused by an electrostatic discharge created during their installation, rendered them inoperable.  Make sure that you install any portable smoke alarms and carbon monoxide detectors safely, and test them after installation.  You can also ask your local fire department to do this for you.
Many smoke alarms are hard-wired into the home's electrical system, but may still have batteries for backup in the event of a power outage.  They also typically have a test button.  Make sure you test them once a month, and replace the batteries once a year.  If you hear a chirping noise, this is a signal that the batteries are weak and need replacing. 
Some smoke alarms have "nuisance" buttons.  If you burn something that you're cooking and accidentally set off the alarm, you can press the nuisance button to deactivate it.  Remember not to actually disable the alarm; you may forget to reset it later.  Simply clear the room of smoke instead.
Allegiant Home Inspections
The Heat and Attic Ventilation

With temperatures nearing one hundred degrees this week, it has been difficult to get anything done without extra preparation.

The heat has made inspecting attics especially uncomfortable.  Scheduling inspections early in the morning is the first step.  Up there under a shingle or slate roof, it isn't uncommon to experience temperatures in excess of one hundred and forty degrees.  It has been necessary to bring additional water to drink during all inspections and iced tea to enjoy as a treat when the job is done.  While working in the heat there is little that is more important to health and comfort than remaining hydrated. 

With attics figuring prominently in my mind this week, I offer these tidbits on attic ventilation- 

- The ventilation to attic ratio is 1 square foot of ventilation space available for each 150 square foot of attic space.
- Poor ventilation can increase cooling costs in the summer by trapping super-heated air.
- Insufficient attic ventilation can contribute to mold growth by inhibiting moisture evaporation and creating an environment conducive to micro-organism contamination.
 -Good attic ventilation contributes to the longevity of the roof.
 - Proper ventilation will help prevent the formation of winter ice dams that can damage roof and gutters.
 - Soffit vent and ridge vents work together as an intake and outtake to circulate air through the attic.

These are some of the attic details that should be noted in a home inspection report.  When you have your home inspected be sure to question the inspector about proper attic ventilation.